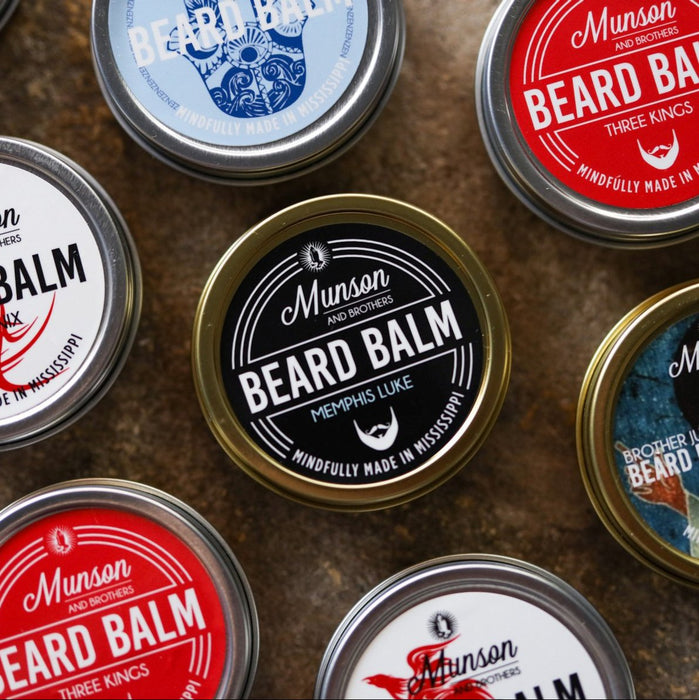 Beard Balm
Munson and Brothers – Columbus, MS
Original price
$19.95
-
Original price
$29.95
Superior care for your facial hair. It is made with a proprietary blend of high-end oils to keep your beard soft. These natural ingredients help soothe irritated skin, as well as hydrate and heal your facial hair. to help heal dryness. After just a few light applications, your beard will look healthy and well-conditioned!
Sweet Mint: Bright and sweet like holiday candy
Soul Storming: Patchouli and cedar wood create a gentle scent reminiscent of summer rain
Wildling: Clove, lemon, and eucalyptus; comparable to a "thieves" blend. 
Memphis Luke: Sweet tobacco scent with jojoba and beeswax
Zen: Leather and cedar wood; smells like a clean cologne
Brother Juniper: Light vanilla
Phoenix: Sandalwood and bourbon
Jackalope: Teak wood that smells like a subtle cologne
Availability:
in stock, ready to be shipped
Availability:
in stock, ready to be shipped
Availability:
in stock, ready to be shipped
Availability:
in stock, ready to be shipped
Availability:
in stock, ready to be shipped
Availability:
in stock, ready to be shipped
Availability:
in stock, ready to be shipped
Availability:
in stock, ready to be shipped
Availability:
in stock, ready to be shipped